Contact Raymar to find out how you can:


Accelerate applications and avoid costly upgrades by conserving bandwidth.
Deliver high-quality audio and video experiences.
Cost-effectively scale media servers and network links.
Minimize competition for network resources between video, data and voice traffic.
Schedule large-scale application delivery during off-peak hours.
Use object caching to offload WAN traffic and reduce wait times.
Eliminate or minimize the effects of latency, jitter and packet loss.

Find out more!

Contact one of our helpful Account Managers - today.

Mike Facey
Sales Engineer/
Account Manager
Direct: 800-695-1951 x.1420
mfacey@raymarinc.com

Rachel McCoy
Account Manager
Direct: 800-695-1951 x.1418
rmccoy@raymarinc.com

Jim Hardiman
Account Manager
Direct: 800-695-1951 x.1404
jhardiman@raymarinc.com



Dear Erin,
Across the country, schools like yours are focused on increasing student achievement, enabling the professional development of educators, and fostering collaboration through Web-enabled applications and streaming media. At the same time, you need to protect students and faculty from malware, online threats, inappropriate content and potentially illegal sites that enable academic fraud.
For higher education institutions, attracting and retaining top students and faculty involves offering the latest technologies and research tools. However, delivering bandwidth-hungry applications across the network can strain even the most lavish IT budget. In addition, schools must enable the free exchange of ideas, while suppressing the illegal distribution of copyrighted materials. In fact, schools are often subject to fines and other penalties for illegal file trafficking on their networks, so you need to protect your institution from these liabilities.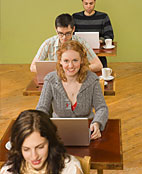 How can you accelerate critical applications, control WAN bandwidth costs, ensure your network is safe from malicious file-sharing, and provide secure and reliable access to the latest Web applications and learning tools that help your students stay competitive?
Raymar can help you optimize and secure the flow of information across your distributed network.
What Raymar offers to you:
Prevent students from accessing inappropriate Web content as well as sites that enable academic fraud.
Achieve compliance with the U.S. based Child Internet Protection Act (CIPA) and associated access to E-rate funds.
Accelerate rich media and collaborative applications.
Reduce bandwidth consumption by up to 50%.
Control Web access based on user profile.
Block proxy avoidance sites that enable users to access restricted Web sites.
See all WAN application traffic and monitor bandwidth consumption patterns.
Identify and contain P2P and bittorents.
Prioritize network resources based no port, device, users, applications and content.
Limit recreational bandwidth consumption.
Avoid legal and copyright infringement problems.